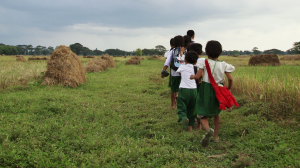 Synopsis
Eleven-year-old Yarzar wants nothing more than to go to school. But growing up in rural poverty with an absentee father and a mother who works her fingers to the bone, Yarzar is needed at home to catch eels to sell at market and to work in the paddy fields. He saves every kyat he can to achieve his dream, doubling his efforts when his little brother announces that he wants to go to school too. But disaster strikes when the family's hut is hit by a cyclone. The film is inspired by the real-life children the screenwriter encountered in the remote village of Apyauk where the story is set – where education plays an essential role in helping to try and combat poverty in the next generation.
Credits
Producer: Shin Daewe
Director: Soe Moe Aung
Cinematography: Khin Maung Kyaw
Camera Assistant: Htet Aung San
Sound Recordist: Mya Darli Aung
Boom Op: Slyne
Editors: Zaw Naing Oo & Soe Moe Aung
Screenwriter & 1st AD: Su Su Hlaing
Production Manager: Su San Zaw Win
Production Assistant: Pan Thakhin
Project Mentors: Rachel Mathews, Tina Walinda, Lars Barthel, Ivan Horák, Regina Bärtschi
Biography
Director Soe Moe Aung is developing an impressive track record in both documentaries and fiction films. Insein Rhythm, the short documentary about a Yangon railway station he directed during the 2012 YFS beginners' course The Art of Documentary Filmmaking, screened at high profile festivals including Nyon in Switzerland and DOK Leipzig in Germany. His short fiction Next Month, about a family divided when poverty forces the mother into prostitution, won the Best Short Fiction Film Award at the 2013 Wathann Film Festival, whilst his documentary about an eccentric political activist and troubadour, A Man For All Seasons, took first prize in the 2013 YFS-Goethe Institut Documentary Competition.
Screenwriter Su Su Hlaing is a young Yangon-based writer of short stories and articles who also works as a journalist for one of the city's burgeoning radio stations. She encountered a boy like Yarzar in Apyauk whilst visiting relatives in the area and wrote the script for To School during the 2012 YFS Art of Screenwriting course. Su Su Hlaing is a winner of the inaugural YFS Screenwriting Competition and is currently developing Splash, a feature length screenplay about Wa Toke, a young street kid who falls into the clutches of a Fagin-like figure and becomes addicted to glue – a growing problem amongst homeless children in Yangon.