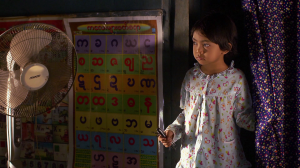 Synopsis
Five-year-old Pan Nu loves both her mum and her older sister but it is her dad who really
has a special place in her heart. One day she wakes up to discover he has disappeared.
Mum says he has gone on a business trip abroad but if so, why has he left behind his
glasses and fountain pen? Pan Nu deeply misses her father and becomes convinced her
mother and sister are keeping something from her. Then a spiteful friend reveals the
shocking truth. Based on true events in the screenwriter's own family when her father was
taken as a political prisoner, Missing is one of the first fiction films in Myanmar to address
the wrongs of the previous military dictatorship and show its effect not only on individual
activists but also on their families.
Credits
Producer: Hnin Ei Hlaing
Director: Khin Myanmar
Cinematography: Tin Win Naing
Camera Assistant: Lin Hnin Aye
Sound Recordist: Kyaw Ko Ko
Boom Op: Sai Nyi Nyi
Editors: Zin Mar Oo & Mai Htoo Cho
Screenwriter & 1st AD: Cho Wutyi Lwin
Production Manager: Kyaw Swar
Production Assistant: Pan Thakhin
Project Mentors: Rachel Mathews, Tina Walinda, Lars Barthel, Ivan Horák, Regina Bärtschi
Biography
Director Khin Myanmar initially followed in the footsteps of her filmmaker father U Kyaw
Zaw and focused on editing, a discipline she continues to practice, most recently editing
the documentary Solomon, about the leader of the Chin resistance army, which won
second prize in the 2013 YFS-Goethe Institut Documentary Competition. Khin Myanmar's
directing credits include The Dream, about a Chin Baptist preacher who sets up an
orphanage, and More Than A Tree, about the importance of mangroves for coastal
communities, made for NGO Malteser International. Missing is her debut as a fiction film
director.
Screenwriter Cho Wutyi Lwin comes from a literary family – her father is the writer U Tint
Lwin – and had her first short story published in Kalayar magazine when she was just 18.
In 2005 she relocated to Indonesia to work as an assistant designer in a textile factory.
Whilst there, homesickness led her to write many more short stories. Now back in Yangon,
she has published two story collections to date: Dreaming of a New Birthday (2007) and
Embracing the Dream Rose (2012). Currently editor of Sonenatha literary magazine, she
wrote Missing during the 2012 YFS Art of Screenwriting course.